In this article, we are going to compile by country the different activities that have been carried out within the common framework of the 1st Multiethnic and Multicultural Latin American March for Nonviolence.
We will take a walk here through the headlines posted on this website of the activities carried out country by country.
We will begin, as a country that has hosted the beginning and end of the Latin American March, through Costa Rica.
To the promoters of the March in this country, World without Wars and Violence, we must thank the impeccable organization and the collaborating associations and institutions, such as the Experimental Laboratory of the Arts, the Foundation for Transformation in Violent Times, The Athletics Group Santiago Runner, the Palmares Youth Cantonal Committee, UNDECA, Infocoop, the Municipalities of Montes de Oca and Heredia, the Civic Center for Peace in Heredia, and many other people and institutions who supported, especially The UNED of Costa Rica, their very kind disposition to give their facilities and their means to this March, which is a living testimony that another world, human and nonviolent, is possible.
---
Costa Rica
Regarding the start of the March, we have two points of view:
And we continue to go through the activities in Costa Rica step by step.
The culmination and closure of the Latin American March took place with the Forum Towards the Nonviolent Future of Latin America.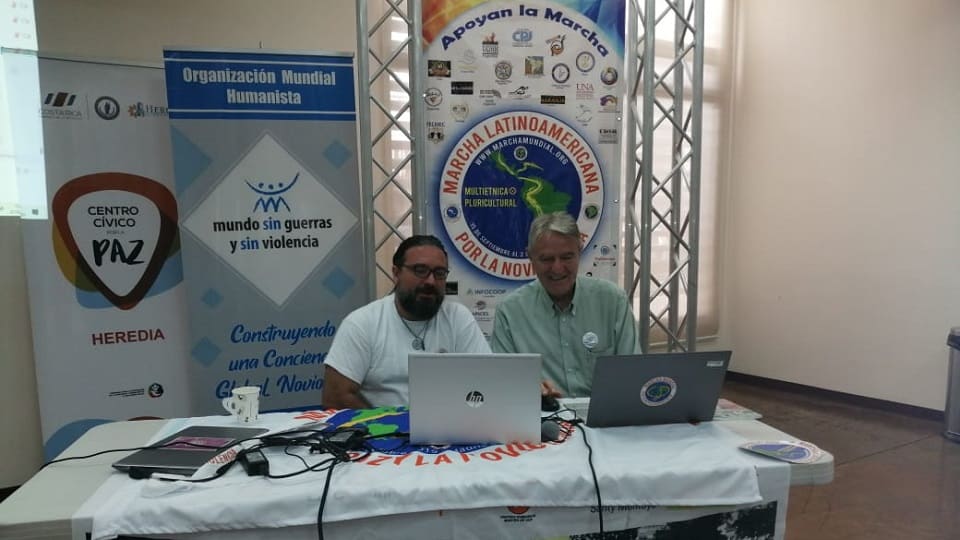 Once the news deployment of Costa Rica is finished, we will continue with the rest of the countries participating in the Latin American March in alphabetical order.
Argentina
Bolivia
Brazil
Chile
Colombia
Ecuador
Mexico
Panama
Peru
Suriname