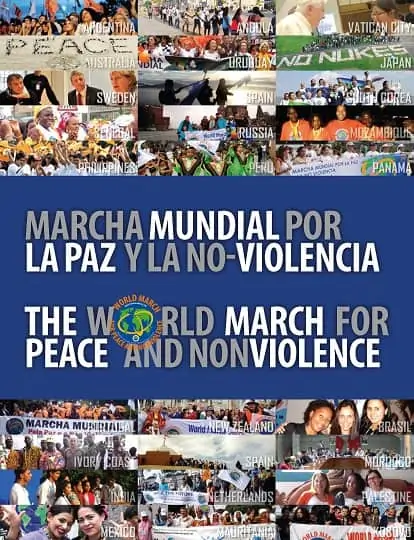 The edition will be similar to the book of the 1ª World March.
Size 30 x 22 cm, 400 pages (350 in color and 50 in b / w). Inner paper: Matte Couché 100 gr. for color and offset of 90 gr. for 1/1. Soft cover. Cover with flap in couché 300 gr. Matte plasticized. Binding: PUR or stitched.
We are contemplating that the release of the book coincides with the activation of TPAN. In that case the book will have an insert on that topic.
Regarding printing, the most suitable places are being sought taking into account the quantities of the internal edition, the printing costs and the transport to a point in the country
There will be two editions of the book
One, internal, non-commercial, by subscription at a cost price of 20 euros (which includes layout, printing and transport to each country). It will be channeled through organizations (MSGySV, World March and others).
Another, in Commercial Circuit (without the need for a reservation): the price will be 50 euros. This circuit will be through bookstores with international distribution (Amazon, Casa del Libro, bookstores or other commercial circuits). This 2nd circuit will be activated 2 months later than the internal subscription.
Both circuits will have all the legal requirements.
We are adjusting prices on the hypothesis of exceeding the thousand copies ordered. It is interesting to know how many books will be needed in each place.
Books can be reserved from now on and to pay for them there is until October 10. Subscription orders are closed there. New orders will have to use the commercial route at a price of 50 euros.
Book presentations of the 2nd World March
Book presentations will be made at each location. This book will be very useful to reconnect with collaborators and participants 2ªMM and for the preparation and realization of the 3ªMM, as well as for the impulse to all the previous actions.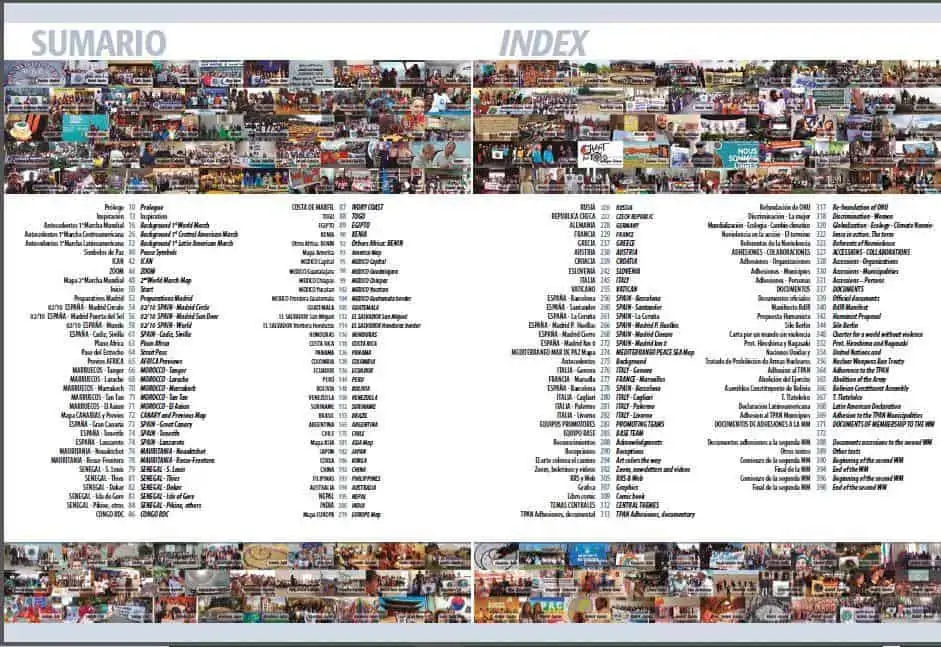 Other books
In November the comic book UN CAMINO A LA PAZ y LA NOVIOLENCIA will be released.
There is a small stock of books from the 1st World March and the Central and South American marches.
Orders of more than 10 books from the 2nd World March will include a gift of these books.
Planned dates relative to the edition and order of the book of the 2nd World March. These dates may undergo some adjustment:
15/9 - Beginning of Book Orders.
2/10 - ZOOM - World virtual launch of the book of the 2nd MM. 10h. Costa Rica, 11am. Colombia, Panama, Ecuador, 12h. Sao Paulo Brazil, Chile, 13pm Argentina, 17pm. Morocco, 18pm. Central Europe, 21:30 p.m. India, 21:45 p.m. Nepal, 1h South Korea, 24/8
Announcement of the 3rd MM.
15/11 - Close orders and End to receive Payments.
15/11 - End of Layout
30/11 - Entry to Print
15/12 - Printed book
How to order and enter?
To order, there are two options
Fill in the following form: https://docs.google.com/forms/d/16N-u1n0Tacyz-a7J-aMsk-j60A9Knn5YPG4_hlGMBTY/
Or send an email to the address book@theworldmarch.org indicating the following data: Name, address, city, country, association or group, tel. with country code, email and Number of copies that are reserved.
For the Income, the account number where the deposit must be made before September 30 is:
IBAN: ES16 1550 0001 2500 0827 1421
Holder: World March for Peace and Nonviolence
SWIFT CODE: ETICES21XXX
When the deposit is made, send a receipt with name, amount and date of completion